Percussion massagers are gaining more popularity by the day, and there is a reason why. For starters, they have quite a range of benefits that the traditional electric massagers are not delivering.
If you are looking for a massager that delivers excellent massage on deep tissues, then a percussion massage is better than an electric massager. You can use on most of your body parts to relieve pain, injury prevention before a workout, soreness after workouts, and on misaligned muscles.
Theragun is providing a wide range of health solutions when it comes to percussion massage. Many people are using their products- from professional athletes to homework out fanatics and just about everyone.
The latest addition to their products is the Theragun g3pro. So, what is it about their latest model that has everyone in a rave?
Apart from being in the higher ranger price-wise, it has quite a wide range of features not available in its predecessors.
Our review is here to offer you more insight into the features of this device. We will also discuss the pros and cons of the g3pro and deliver a verdict to help you decide whether you deserve to get yourself a g3pro.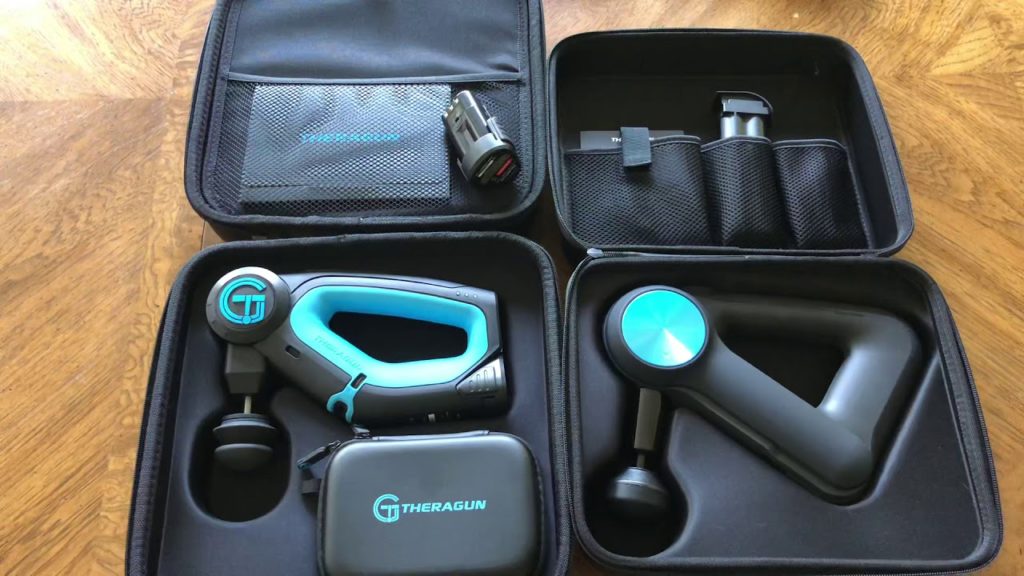 Features
Six attachments
Each of the six attachments is designed to target specific areas of your body. Below are the six attachments are their uses:
Large ball – it is perfect for large muscles like quads and glutes.
Standard ball – you can use this for any body part.
Dampener – ideal for muscles close to bones and tender areas
Cone – ideal for pinpointing muscle treatment
Thumb – perfect for trigger point therapy and your lower back
Wedge – you will need this for IT bands, shoulder blades, and scraping.
Four adjustable arms and the triangular ergonomic handle
These make it easier for you to reach all areas of your body. It is also more comfortable to hold it on your grip from 3 different angles, making it easier to apply the needed pressure..
60lbs of a powerful force 
The g3pro is an excellent choice if you are looking for a more powerful massager in the market.
While other massage guns do not have enough force to break-up tightness, cramps, spasms, and knots on your muscles, the g3pro packs a whole 60lbs of power for the exact relief you need.
Two speeds
Why do you need to use your g3pro? To optimize your daily activities or to target specific ailments? The g3pro makes it possible for you to pick your desired speed depending on your needs.
First, there is the standard speed that delivers at least 40 percussions per second. Second, there is a lighter speed, which delivers at least 29 percussions per second.
Two swappable batteries 
If the battery runs out before you finish up your message, the second battery will come in hand. The g3pro comes with an extra swappable battery. Each of the batteries has a running time of 75 minutes. That means you have at least 150 minutes of massage time if both batteries are full.
Theragun g3 pro vs g4 pro
One of the key differences between the Theragun g3 pro and Theragun g4 pro is the noise level. Theragun g3 pro is quite loud but the newer model, g4 pro, has integrated the "QuietForce Technology". Another difference is the g3 pro has 2 speeds while g4 pro has different speeds ranging from 1750 to 2400 PPM (percussions per minute). In addition to this, the g4 pro has an OLED screen that gives you more control over the pressure and speed you use.
Theragun g4 pro uses Therabody app, an enhanced app that learns your preferences, habits and behavior using artificial intelligence. It also integrates with Google Fit, Samsung Health, and Apple Health to give you recommendations for your wellness and health. You can also use this app to control the ppm of Theragun g4 pro. Theragun g3 pro, on the other hand, comes with the basic app, which is less enhanced.
Theragun g3 pro discount
The shop price of a new Theragun g3 pro $649.99 from Amazon. While there are other cheaper models in the market, Theragun has the best massage deep tissues massagers in the market. With all its features and effectiveness, it is not hard to see why it is highly priced.
An easy way to buy the model at a lower price is when there is a discount. Currently, there is a $60 discount and free shipping. If you were to buy now, you will get it for $589.99.
You can also buy it directly from the company's website at a discounted price, $449, which will save you $200.

Theragun g3 pro sale
Health and wellness shops in your area might be selling the g3 pro Theragun. However, you can easily buy it from online stores and have it delivered at the comfort of your home. Amazon has a number of sellers you can order from. Other sites to buy from include Ebay, Walmart, Best Buy, or directly from Theragun website.

Theragun g3 pro promo code
Although discounts will get you a lower price on the Theragun g3pro, there are other ways to buy it at a lower price. You can use a promo code in case the discounts have run out. While the amount will not be as less as the one on the discount, a promo code might help you save up to 25%. Some sites to check for promo codes include Coupon Birds, Coupon Xoo and Hot Deals.

Theragun G3 vs G3 Pro
There are some differences between Theragun G3 and G3 Pro. First, Theragun G3 Pro has more attachments. It comes with a dampener, standard ball, large ball, thumb, wedge and cone. Theragun G3 only has the dampener, thumb, standard ball and cone.
Theragun G3 Pro is also heavier and bigger, weighing 3.10 lbs. while Theragun G3 weighs 2.7 lbs. Theragun G3 is less noisy than the pro, but its battery life is less.
The battery is inbuilt and lasts for about 60 minutes. Theragun G3 Pro has interchangeable batteries where each will last for out 75 minutes. With this model, you have more running time of 150 minutes. Theragun G3 has a fixed arm while Theragun G3 Pro has an adjustable arm position so one reaches more surface area when massaging.
Both models have 2 speed modes and same frequency of 2400 and 1750 rpm. The amplitude is also the same at 16mm. The force is different, where G3 has a force of 40 lbs. and the G3 pro at 60 lbs.
Theragun G3 is more affordable, although it comes with less attachments and lacks some of the features Theragun G3 Pro offers. However, it has a lower price than Theragun G3 PRO, and will also get the job done. It is an ideal choice for someone who is not a professional athlete.

Theragun g3 pro vs Theragun Liv
Theragun G3 Pro is pricey, but the brand has some more affordable options like the Theragun Liv. The question is whether it offers the same effectiveness and features as the G3 Pro.
For starters, both come with a travel pouch so you can take it with you everywhere you go. Both have the same amplitude of 16mm.
There are major differences, starting with the batteries and running time. Theragun G3 Pro has interchangeable batteries with a total running time of 150 minutes. Theragun Liv has an inbuilt battery that has 45 minutes running time.
Theragun Liv has 1 speed function with one frequency of 2400 rpm, and one fixed arm. The noise level is at 79 db. It also comes with 2 attachments, a standard ball and a dampener. Theragun G3 Pro, on the other hand, comes with 6 attachments, has 2 speed modes and frequency ranges of 1750 rpm and 2400 rpm. Its arm is also adjustable so you have an easier time reaching all the angles of your body and to the deep tissues. It is leas noisy with 75 db noise level.
Theragun G3 Pro is ultimately superior to Theragun Liv, but is it also more expensive.
Theragun g3 pro vs Hypervolt
Theragun G3 Pro and Hypervolt are the best percussive massagers in the market. They are both similar in terms of weight and the shape and are all easy to use. Both of these have battery indicators to let you know when you are running out of power.
However, Theragun G3 Pro has only 2 speed modes while the Hypervolt has 3. GE pro is also a bit louder than Hypervolt. The Hypervolt also charges faster than the Theragun G3 Pro, and retains power more. Hypervolt also does not heat up when charging whereas Theragun G3 Pro will heat up in most of its body when you are charging, except on the handle.
It is also more affordable compared to Theragun G3 Pro, and a perfect choice for anyone looking for a less expensive percussive massager.


Theragun g3 Pro Pros and Cons
Pros
The two swappable batteries – that means there is no downtime just when you are about to hit the right muscles. If the two batteries are full of charge, then you will have 150 minutes running time.
It has six attachments – this makes it possible for you to massage any part of your body using different attachments. Each of the six attachments is designed to target specific areas, a feature that other models lack.
Four adjustable angles so you can reach most parts, if not all, of your body
Triangular handle – makes it easy to hold the device tightly on your grip. It also gives you at least three different angles to hold the device from, making it easy for you to reach different muscles.
It has two different speeds, 40 and 29 percussions per second. You can use these speeds to achieve any result, depending on what you need the device to deliver.
It is easy to control and use, regardless of the speed or angles you choose
Works well in reducing or eliminating muscles and joint pains and for deep tissues at the comfort of your home
It makes less noise compared to the previous Theragun models.
Cons
Although there is a 50% noise reduction compared to the other models, the g3pro is still pretty loud.
It is pretty pricey and will need you to dig deeper into your pocket to afford one. There are a few models in the markets from other brands with similar features or better at a lower price.
Theragun g3 Pro Verdict
Theragun g3pro is an excellent percussion massager to have at home. It is quite costly, but totally worth it if you do not mind the price.
Its quality is top-notch, so is the effectiveness of its massage. If you are looking for a precision massage that delivers excellent results on deep muscles, the g3pro will deliver.
It also helps you massage almost all muscles in the body using the six attachments and the four angle adjustments.
While its predecessors only have 90 minutes using the two swappable batteries, the g3pro delivers 150 minutes using its two swappable batteries. This gives you enough time to concentrate on all your muscles that need work.
Theragun g3 Pro Alternatives
While the g3pro is an excellent device, other alternatives in the market will cost you less money and will still deliver.
The Hypervolt percussion massager by Hyperice, for example, will only cost you at least half of the price of the g3pro. It has three different speeds compared to the two speeds of the g3pro but has five attachments instead of 6. It also delivers at least 3200 percussions per minute.
Another alternative is the VI Pro from VI Vigorous Innovations. It is also affordable compared to the g3pro. It is also affordable compared to the g3pro. It has four attachments for different body parts and five different speeds that deliver 1400 to 3200 strokes every minute.