Recently, KraftGun has broken into every sportsperson's life so forcefully that it has felt like a thunderstorm out of nowhere.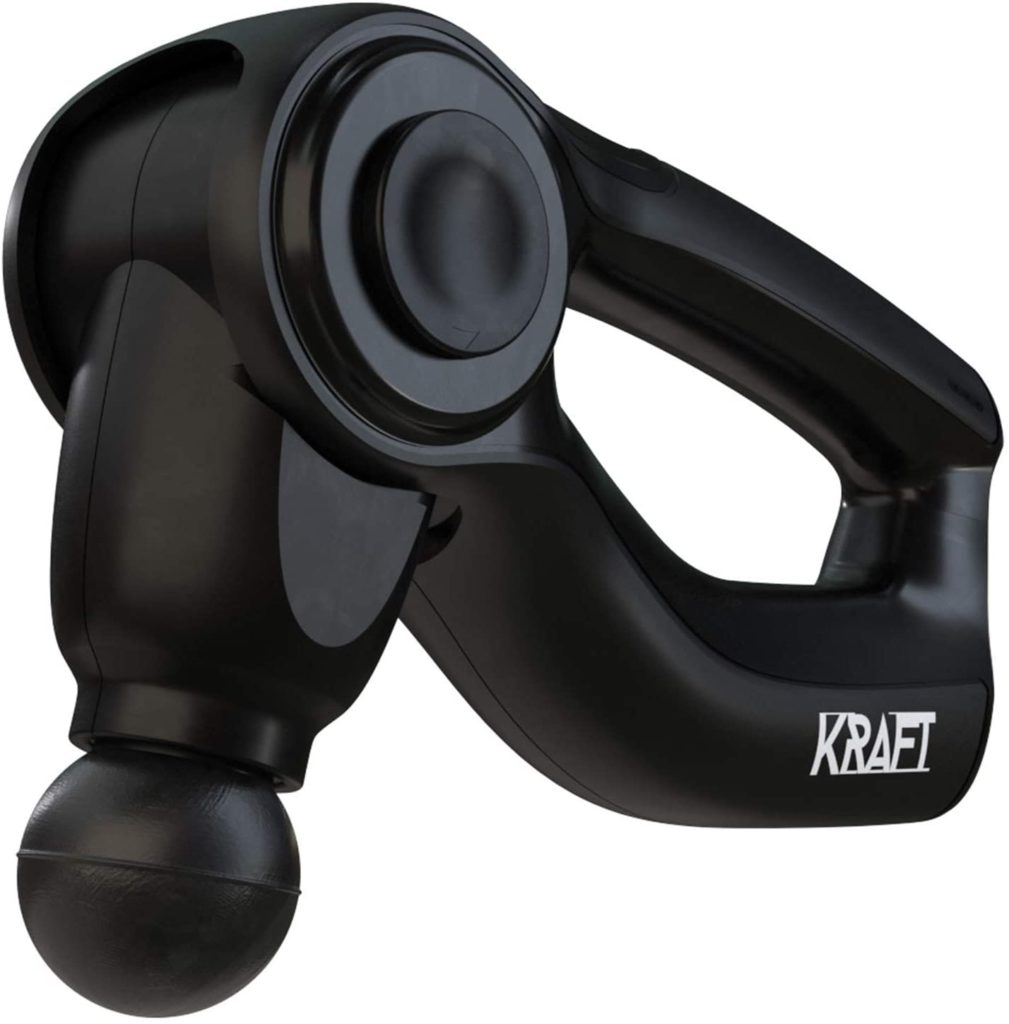 A while ago, I was peacefully scrolling through Instagram and then BOOM: I saw a KraftGun ad. At first, I did not even pay attention to this pretentiously looking massage gun. Then I switched to Facebook and then BOOM, once again, I came across numerous ads of this cocky device. This means that the KraftGun company does a lot of social media marketing. Until recently, nobody had actually seen the gun. Sometimes, seeing so many aggressive ads can be a bit annoying, can't it?! At this point, I was outraged: was this device messing with me, how dares it? What is so special about what this device can offer me? These were too many questions to handle at the same time, so I pulled myself together and did my research on this sassy KraftGun. And you know what? This Percussion Massage Gun has something to prove to you. Take out your wallets, folks, because you are about to spend some money. I assure you that you will be blown away with what the KraftGun Massage Gun has to offer.
The massage gun is due to change your life forever
After an intense workout, you most probably feel that your muscles are sore and achy. As a result, you need a lot of time to recover them. In scientific circles, this type of pain is called delayed onset muscle soreness or simply DOMS. DOMS typically lasts 3-5 days. To speed up the process of recovery and not put your workouts at the gym on hold, you should use a massage device that most suits your preferences. By doing so, you will considerably reduce tissue tension.
Some people claim that the results are insanely great and absolutely comparable (and even better) with massaging experience. When you apply the massage gun on the most painful spots, you will experience immediate relief. There is no need to spend your money on each session of massage therapy, and it is quite convenient especially for those who value their time. You can get a therapeutic experience on a daily basis: just use the percussion massage gun 15-20 minutes per day, and muscle soreness and stiffness will disappear.
Massage guns are designed in alliance with cutting edge technology. They work in two different directions:
# to stimulate relaxation
and, simultaneously,
# to activate muscle tissue
This, in turn, will positively affect overall performance without any delays in your training.
That being said, many professional sportspersons and regular gym goers have opted for the percussion massage therapy, and enjoy the convenience of using the massage gun from the comfort of their own homes. If you are still not in our massage-gun-obsessed club, this is the right time to join in.
What's inside the KraftFun Massage Gun?
Without further ado, let's discuss the features of the KraftGun. We have come up with a list of the most important features that each percussion massage gun ought to have. Here what we have got for you:
#1 – Stall force and stroke length.
Stall force and stroke length are important criteria that defines how aggressively (the stall force) and how far (the stroke length) your massage gun can deliver a deep tissue therapy without the device stalling.
According to the official website, the stall force of KraftGun is 66-80lbs (~30-36kg), and the stroke length is 14 mm. What can I say about these parameters? It is pretty good if you are into an aggressive type of therapy, and it is 100% comparable with the top-rated counterparts.
#2 – Number of interchangeable head attachments.
The device comes with a zippered case for 4 different head attachments in the shape of the ball, flat head, bullet, and fork. If you want to make the most of your percussion massage, then you need to use these heads right.
The ball-shaped head is the most suitable for beginners and, perhaps, the most universal to apply. This attachment will deliver you a relaxing and gentle experience.
The flat-shaped attachment is considered one of the most effective. The tip can deliver you a percussion therapy in dense areas of your body such as pecs, quads, and back.
The bullet tip attachment is suitable for massaging sensitive areas in the muscle, the trigger spots. Delivering a great strike of percussion on certain points in the body, you will feel immediate tissue repair, resulting in the release of stress and tension.
Last but not least, the 2-pronged fork attachment. The device with the fork attachment is perfect for the promotion of blood circulation while gliding along your trapezoid muscles. You can also hit certain areas with one of the prongs getting a bit of extra depth.
#3 – speed settings.
The device comes with 3 different speeds, so you have more than enough to play around with.
#4 – the battery and its lifespan.
The manufacturer claims that you will charge the battery once per month. The battery is non-removable, and its life is up to 3.5 hours in a single charge.
#5 – the noise.
When it comes to fancy handheld percussion massage guns, nobody wants to draw everyone's attention. Therefore, the noise criterion is crucial. The noise of the KraftGun is 65 DB and the sound actually has a calming effect. There is no need to raise your voice while the device does its work and recover your muscle tissue.
#6 – adjustability of the hand.
The KraftGun has a very versatile arm: it rotates in 3 different angles. This means the ergonomic design of the device has the capability of moving the way you want it to, hitting hard-to-reach spots on your body.
#7 – the weight.
The device is light, it weighs only 2.2 lbs (1 kg).
#8 – the carrying case.
Yes. The KraftGun comes with a zippered black case with a handle. It is very stylish and convenient to bring along.
What is all the fuss about?
The benefits of having the KraftGun Massage Gun.
A strong 250W motor is a primary reason that makes the device so powerful and efficient to use. Some of the most popular massage guns have a sound that is similar to a tractor's growling. The KraftGun Massage Gun beats them out with the sound not being annoying at all.
Based on customer reviews, it is safe to say that the device is designed to accelerate recovery, perfectly warm up muscles, and efficiently eliminate lactic acid from the body. This makes the gun suitable for professionals as well as for regular gym-goers. The KraftGun is extremely customizable due to being equipped with the variety of head attachments. Moreover, it has different speed settings, and a 3-angle adjustable rotating arm. This means that you can allow the KraftGun to do its work while watching your favourite TV series on Netflix.
The device is light and weighs only 1 kg, so you will not even notice the weight while carrying it around in your backpack. Even if you live far away from the gym, after an intense and productive workout nothing will stop you from having the best massaging experience right at the gym.
What is wrong with the KraftGun?
I have never come across a perfect massage gun with which all athletes would be 100% satisfied, neither have you. This means that the KraftGun has its own flaws.
One of the minor drawbacks that I want to point out is a non-removable battery. Some people could feel a bit annoyed when they found out that the device is not equipped with a proper battery. This means that if the battery dies, the device ought to sit on the charger until the battery is full again. If the massage gun had a removable battery, you could immediately change it to the fully charged one and go on with your massage right away. On the other hand, if it were not for the internal battery, the device would come at a higher price and weigh more. In other words, the Kraftgun turned said disadvantage into the ultimate advantage.
Another noticeable disadvantage is the time of shipping. According to the official website due to the high demand, you need to wait 8-10 weeks to receive the package. You cannot find this device on other websites, but if you come across one, you will be beyond the warranty protection due to potentially buying a fraud. If you ask us whether you should buy Kraftgun or not, we have a solid answer that you should go for it. Given the quality of the massage gun, it is worth the wait.
To buy or not to buy: that is the question.
I bet many athletes are trying to resolve this eternal issue and we have the answer.
While trying to pick out the best option, you can easily get a headache. The market is overloaded with oodles of massage guns floating around the Internet. At first sight, all the products are quite the same, so what should you do?
If you are seeking the mighty power and the quietest model all at once, the KraftGun can be the best solution for you. This model is amazingly fast, and, at the same time, the sounding is not annoying at all, reaching only 65 DB.
The device is extremely customizable: you can adjust the settings, pick out the head attachments that you enjoy, and get the best customer experience. You will be surprised when you find out about the price, but we will come back to it a bit later.
KraftGun vs Theragun
An absolutely unknown device that emerged from nowhere, with an overly aggressive social media marketing strategies that is ready to take up the challenge and combat its famous counterpart, Theragun G3 PRO.
The devices have comparable parameters when it comes to the engine. The stall force of the KraftGun is 66 pounds and the Theragun PRO is 60 pounds; both have the same stroke length, which is 16 mm amplitude. 4 interchangeable head attachments come with KraftGun and Theragun has an excessive amount of 6 tips. You can play around with Kraftgun's 3-speed settings, however Theragun only offers you to choose from 2-speed modes. The adjustability of the arm is quite the same: 3 angles in case of Kraftgun and Theragun has 4 different angles. Both of the two devices have a multi-gripping position.
When it comes to the battery, Theragun beats the Kraftgun with its removable battery. Although the latter fights back with the lifespan of the battery which is up to 3-4 hours on a single charge and it is insanely great. You might even forget when you need to charge your little fighter.
Due to weighing only 1 kg, Kraftgun knocks its counterpart out in terms of weight easily. Theragun cannot boast of having a carrying case and the Kraftgun fighter has one. Have you ever heard the sound emanating from this machine? It is similar to the sound of a tractor, for God's sake. You can easily draw unwanted attention.
Kraft Gun vs Hypervolt +
Many athletes consider Hypervolt + as the best high-end percussion massager so far. This means that this machine will fight to the last breath in order to keep the crown of being the best of all. Just look at this baby monster: the device has 60 pounds of stall force, the amplitude is 13 mm. The device is equipped with 5 different interchangeable attachments, although it comes without a carrying case. Hypervolt + is designed in alliance with up-to-date technology and is effective in the acceleration of your muscle recovery, enhancing your overall performance.
Hypervolt + is easily defeated by the KraftGun fighter in terms of having only one gripping position. This indicates that the device is not so consumer-oriented as the company wants it to be. The noise is 60-65 DB and the weight is 3 pounds (less than 1.5 kg), which is 100 % acceptable and comfortable to use. The battery lifespan is up to 1.5 hours on a single charge, this parameter is not so impressive at all. The KraftGun machine knocks your socks off by offering 3-4 hours of work without any breaks.
For your convenience, we want to provide you with a full comparison between the devices and present it in the table below.
Ultimate Massage Gun Review
| | | | |
| --- | --- | --- | --- |
| Criterion | KraftGun | Theragun G3 Pro | Hypervolt + |
| Stall force and stroke length | 66 pounds 16 mm | 60 pounds 16 mm | 60 pounds 13 mm |
| Number of head attachments | 3 | 2 | 3 |
| Speed settings | 3 | 2 | 3 |
| The battery and its lifespan | Non-removable battery 3-4 hours | Removable battery (comes with 2 lithium-ion batteries) 75 min | Removable battery 1.5 hours |
| The noise | 65 DB | 68-70 DB | 60-65 DB |
| Adjustability of the hand | 3 angles Multi-gripping position | 4 angles Multi-gripping position | Nonadjustable Only one gripping position for the handle |
| Weight | 2.2 pounds (1 kg) | 3.1 pounds (1.4 kg) | 3 pounds (1.3 kg) |
| Carrying case | yes | yes | no |
To sum up, all three devices are a pretty good deal. Each machine has its own flaws and unbeatable benefits.
Whether you want to opt for a long-serving brand name or become a customer of a newborn-company, it is up to you to decide. You should keep in mind that KraftGun offers 60 days to try it, if you do not want to keep the machine you can return it for a full refund. It is such a great opportunity for those who are cautious in making decisions. That being said, let's compare the prices of each model.
THE PRICE
The price of the device is one of the most crucial factors at the moment of deciding. Such technologically advanced and sophisticated machines come at a high price. KraftGun, due to the high demand, makes a generous offer: you can purchase the device for $469 instead of the regular $489. Note that you can get the massage gun only from their official website, and if not, you risk losing the warranty. Remember that it will take a while to ship your order, about 6-8 weeks.
Theragun G3 Pro retails for $599 but you still can get a considerable discount of up to 25% off the price. The manufacturer makes an interesting offer allowing to trade in the device if you already own one. The only thing you should do is validate your device, get your promo code for a new model, and then… keep the old one. If you want to know more, check it out here: https://www.theragun.com/us/en-us/theragun-trade-in-2020
Hypervolt strives for greater profit. The cost of this champion is now only $349 instead of $399. Both Hypervolt and Theragun are available for purchase not only on their official websites but also on other resources such as Amazon.com. Due to the pandemic, shipment can take a bit longer than usual, especially with regard to international deliveries. You can find accurate information regarding the delivery time at the checkout on their website.