The Pure Wave Massager has emerged on the market recently and has already drawn everyone's attention to it.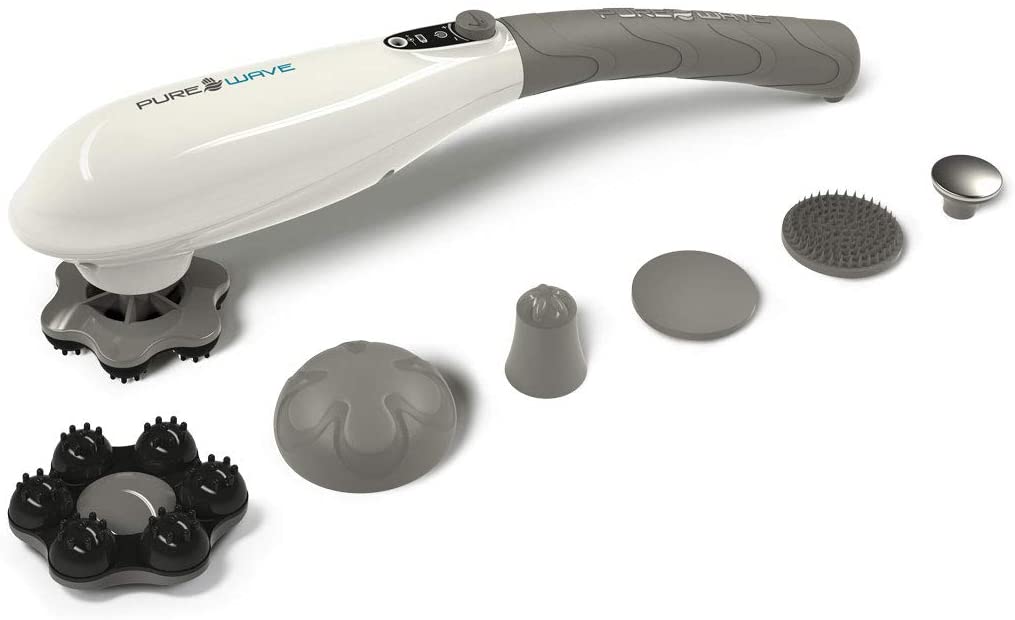 The CM-07 model is an upgrade from the Pure Wave CM-05 model, which is quite popular amongst the massage and physical therapists. These professionals highly recommend CM-07 due to its effectiveness, therefore, we could not resist but to try the massager by ourselves.
There are oodles of diverse similar devices available online, and in order to pick the right option that would best serve you, we have prepared an in-depth honest review of the Pure Wave CM-07 massager. We have come up with a full description of all functionality options of the massager and will provide you with a comparison between the device and high-end massagers that are killing the market. If interested, continue to read further.
Not only professional athletes but also regular gym-goers love to spend many hours in the gym. These people are fans of working themselves to the limit. After such intense and productive workouts, one is left with sore and achy muscles and cannot keep up with the training. This means that it is time to give the body an opportunity for muscle relaxation. In order to speed up the process of recovery, having a suitable percussion massager is a must.
But how do these fancy-looking devices work? Are they worth their high price?
These devices deliver percussion and vibration therapy, which is effective in the reduction of muscle soreness and overall inflammation in the body. The most important thing regarding such devices is that a sportsperson can address certain problem areas demanding much care and attention. By increasing blood flow to a particular spot on the body, an athlete can get immediate tissue tension relief. Massage guns are also efficient tools that are suitable for warming up muscles ahead of intense physical activity. In other words, there is no need to waste one's time while looking for a masseur, everyone can get a massage in the comfort of their home.
What comes with the Pure Wave Massager CM-07?
The effectiveness of the percussion massager is defined by a number of important criteria. We have prepared a list of the most crucial features, so let's break down in detail with what the Pure Massager CM-07 comes with and what the device is capable of.
#1 – stall force and stroke length.
The stall force or stall torque is a term that is used to describe the amount of force you can apply to the motor before it physically stalls. In other words, it defines how much pressure you can put on a certain area while you are massaging.
The stroke length or the amplitude refers to the distance of how far the massage gun head is moving away from the main body of the device. The higher the amplitude, the more aggressive type of therapy you are about to get.
According to Amazon.com or any other official selected partner websites, the stall force and the stroke length of the Pure Wave Massager are approximately 35-40 pounds and 3-4 mm respectively. This means that the device delivers more of a vibrational type of therapy rather than percussion.
#2 – number of interchangeable head attachments
The Pure Wave Massager features 8 different attachments:
3D Pivot Tip;
Stainless Applicator Tip;
Air Cushion Tip;
Six-Head Tip;
Point Tip;
Scalp Tip;
Body Oil Tip;
Migraine Tip.
Such a diversity of the head attachments can be explained easily: they all solve different problems and can target certain spots on the body. In order to get the best customer experience, you need to use them correctly.
3D Pivot Tip is designed in a way to distributeeven pressure across joints repeating every contour of your body.
Stainless Applicator Tip helps you apply creams and gels into your personal care routine. By using this head attachment, you can hit hard-to-reach spots on your body such as the lower back and the spine.
Air Cushion Tip is made from silicone material and is one of the most universal to use. The tip is soft and perfect to apply to sensitive areas and would be especially helpful when one is experiencing knee issues. The air cushion tip allows you to effectively brush along the knee or any other areas demanding special care without hurting or damaging them.
Six-Head Tip is an attachment that will deliver a deep tissue massaging experience and is the most common to use on large muscle groups such as the hamstrings, quads, and calves. Even though the tip can feel a bit abrasive, some sportspersons prefer to apply this on their lower back. As long as one keeps the head away from the bony areas and uses it over clothing, the blood flow will be subsequently increased, relieving spasms and aches.
Point Tip is used for specific trigger points on your body. Delivering a great strike of vibration therapy on sensitive areas of the body, you will experience instant muscle tension release, as a result, enhancing your movement and overall well-being. The tip is best implemented on the trapezius muscles, massaging from the back of your head and neck to your shoulder.
Scalp Tip is engineered to promote blood circulation in your scalp. This type of treatment is unique in its own way helping not only to effectively relax but also to increase new hair growth and strengthen existing hair.
Body Oil Tip is a head that you can use in aromatherapy massage, potentially enhancing the effects such as the reduction in levels of stress and anxiety.Getting a spa treatment without leaving your couch has never been easier.
Migraine Tip is a lifesaver when it comesto solving issues such as tension headaches, TMJ, and acute tendonitis.
#3 – speed settings
The device is equipped with a variable speed dial. Therefore, you can easily customize the massager. In other words, you are able to spin the dial and set it at any speed range you want between 1,500 to 3,700 rpm. Keep in mind that the higher the speed, the more percussion type of therapy you get.
#4 – the battery and its lifespan
The Pure Wave Massager comes with a nonremovable battery. The battery lasts 3 hours on a single charge or 1 week when it is used 20-30 minutes per day. Charging is not an issue anymore, because the machine is equipped with a charger.
#5 – the noise
Depending on the selected speed mode, the noise varies from 45 to 70 dB, which means that nobody will be annoyed whilst you are using it.
#6 – adjustability of the hand
Despite having only one gripping position by the rubber hand, the design of the Pure Wave Massager is ergonomic and has numerous benefits to offer. Due to the length of the device, it allows great versatility in terms of massaging hard-to-reach spots such as your back. Moreover, you will be able to easily brush alongside the spine or behind your legs.
#7 – the weight
The massager is lightweight and weighs only 1.75 lbs, which is less than 0.5 kg.
#8 – the carrying case
Unfortunately, the Pure Wave Massager does not come with a case, although it features a drawstring bag. Additionally, the machine is equipped with a stand, where you can put the device and all the heads on when you do not need them.
The benefits of the Pure Wave Massager that make it stands out
One of the major benefits of having the Pure Wave Massager is the dual motor, which is responsible for percussion and vibration therapy magic. In other words, there is no need to spend hours trying to choose the best device that most suits your preferences. You can opt for the Pure Wave Massager and kill two birds with one stone.
The CM-07 model not only features a high-speed percussion motor with up to 3,700 rpm, but also a facial vibration motor on the handle side running up to 10,000 rpm. The device is equipped with a speed controller for customizable intensity. By adjusting the dial, you can get the best possible experience.
You may think that 8 head attachments are too much but let us disagree with that. By picking the right tip, you can address certain problem areas and manage pains and discomfort promptly.
To give an example, if you aim at getting rid of lower body aches and pains, you should choose the Six-Head Tip attachment. In order to effectively work on sensitive areas, you should opt for the Air Cushion Tip. By doing so, you will tender the muscles after a productive day in the gym.
Moreover, special head attachments exclusively designed for a facial vibration therapy is a must-try. The Scalp Tip and Migraine Tip are not only responsible for providing you with an effect even better than visiting a massage therapist but also they will prolong your youth. By incorporating a facial massage into a daily routine, you can postpone the aging process and avoid early wrinkling on your face.
When it comes to design and weight, the Pure Wave Massager knocks each counterpart out. Due to being lightweight as well as having even weight distribution, the machine does not put a strain on the wrist, making the massaging process comfortable. Additionally, the long length design allows you to easily get at any spots on your body without the help of others.
Another great feature is that the massager is cordless. This means that you can reach any points on the body that you need to without being wrapped in tangled cords.
Are there any drawbacks?
Some people opt to get a more aggressive massage than others. This means that they prefer percussion therapy. Taking into consideration the stall force and the amplitude of the Pure Wave Massager, which is 35-40 pounds and 3-4 mm respectively, we have concluded that the device delivers a more vibrational type of therapy.
However, it does not necessarily mean that the massager is less efficient. On the contrary, it does its work perfectly well if you pick the right head attachment. For instance, if you are into aggressive therapy, you should apply the Six-Head Tip on the skin, as a result, you will get a more powerful massage experience.
For some people, the ability to continue working out is vital even at the moment when they travel. Having a carrying case where you can fit the device with all the accessories and keep them safe appears to be beneficial. Unfortunately, the Pure Wave Massager does not come with a case. Nevertheless, taking into consideration the low price of the device,without giving it a second thought, you may purchase a case that will satisfy all your needs in terms of keeping the massager safe.
The verdict: whether you should buy it or throw it away
The Pure Wave Massager is an absolute champion in the league of its own. The combination of two different means of therapy, which is percussion and vibration, incorporated in just one device is an engineering miracle.
The price of the device is ridiculously low, and it seems that the Pure Wave Massager is due to take over the entire market of similar devices. To add to this, 2 years of warranty is guaranteed.
To sum up, numerous positive customer reviews, high sales, and oodles of recommendations from professionals speak for themselves. If I were you, I would not hesitate on trying this champion out.
An honest in-depth comparison with high-end massagers
As we mentioned above, massagers can be divided into two groups depending on the type of therapy they provide. For example, Theragun G3 Pro is considered a percussion device, and the Hypervolt + is believed to deliver a vibrational massage experience. However, the Pure Wave Massager does both therapies and can be seen as a revolutionary achievement in engineering.
We have come up with a full comparison between the devices and present them in the table below.
Ultimate Massager Review
| | | | |
| --- | --- | --- | --- |
| Criterion | Pure Wave Massager | Theragun G3 Pro | Hypervolt + |
| Type of therapy | Percussion and vibration | Percussion | Vibration |
| Stall force and stroke length | 35-40 pounds 3-4 mm | 60 pounds 16 mm | 60 pounds 13 mm |
| Number of head attachments | 8 | 2 | 3 |
| Speed settings | A variable speed controller | 2 | 3 |
| Battery and its lifespan | Non-removable battery 3 hours | Removable battery (comes with 2 lithium-ion batteries) 75 min | Removable battery 1.5 hours |
| Noise | 45-70 DB | 68-70 DB | 60-65 DB |
| Adjustability of the hand | Nonadjustable Only one gripping position for the handle | 4 angles Multi-gripping position | Nonadjustable Only one gripping position for the handle |
| Weight | 1.75 pounds (1.45 kg) | 3.1 pounds (1.4 kg) | 3 pounds (1.3 kg) |
| Carrying case | No (it comes with a traveling drawstring bag) | yes | no |
As you can see from the table above, the Pure Wave Massager combines features of the two sophistically advanced devices in itself. The characteristics are comparable or even better. Considering the price, the massager is definitely worth to try.
It is important to note that percussion massage guns are usually preferred by professionals who are physically developed through sports activities. These athletes opt for deeper and more intense muscle massage in comparison with those who are regular gym-goers. The latter tend to have more gentle muscle stimulation and may find vibration massager as more suitable for them.
To conclude, the table above demonstrates only figures. Thus, you should try and compare different models for yourself in order to get an understanding of what device better suits your preferences.
The price
The price of the device is one of the vital criteria that affects our decision whether to purchase the massager or not. Such high-tech machines are quite expensive. To give an example, you can buy the Theragun G3 Pro for $449 and get a considerable discount of 25% off the price. You can buy the device on its official website.
The Hypervolt + is one of the popular massage guns amongst professionals. The powerful but gentle machine retails at $349 instead of the regular $399. You can order the device on their official website.
Surprisingly, the Pure Wave CM-07 costs only $116.95 with a current discount of 10% off the price. The reason why the manufacturer makes such a generous offer and sets a ridiculously low price could be seen as the desire to stimulate demand and gain market share. They are pure marketing geniuses who believe in the product. This means that if one hesitates for too long, they can miss out on the chance to try the massager almost for free. In our opinion, we believe that the manufacturer might soon implement a price increase. The Pure Wave Massager is available on websites from their selected partners.