I bet most people have already seen viral Instagram videos showing hypnotizing waves on skin surfaces sent by the massage gun. These devices look like a fancy power drill and their sound is quite similar. For athletes and bodybuilders, popular designs such as Theragun, Hypervolt, Timtam and other well-known massage-guns are at the top of today's world. But what is the real deal and what is not worth a look?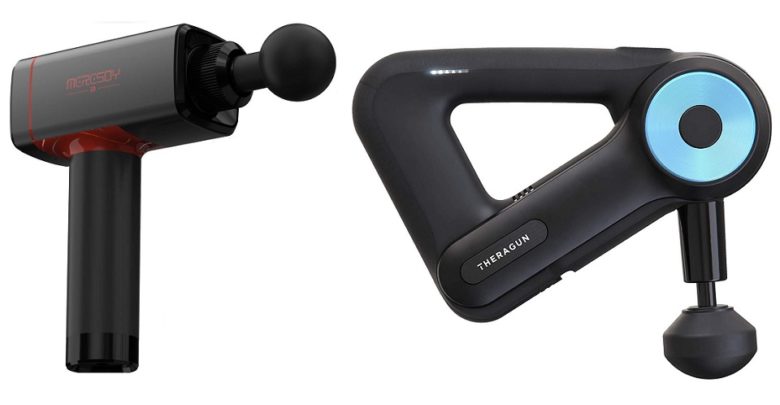 If you attend a gym regularly or you are a professional athlete, you know how sore and achy muscles after an intense workout can annoy you and affect the quality of your life. To ease muscle pain after a productive day at a gym is a must. But not every athlete wants to spend a day at the spa. Also, you may waste days or even weeks throwing lots of money away while trying to find the best masseur, and eventually end up with nothing. This means that a percussion massager gun could be the best solution for you! If you are wondering why that is so, just let me explain.
A percussion massager is designed to accelerate muscle recovery, diminish aches and pains, enhance your performance, release stress and tension, and eliminate lactic acid from your body. You can easily address certain areas and subsequently improve your movement. These devices come with a variety of head attachments and different speed settings. Everyone's pain tolerance and massage preferences are different, but everyone can adjust the settings of a percussion massager gun to get the best possible experience. You can even use a percussion massager on your own while resting at home, there is no need to leave your couch.
Without going deep down the rabbit hole, science also has something to say. Massage guns deliver two different therapies: percussion and vibration. They involve punching motions on deep layers of tissue and the vibration of superficial layers. A fast-moving back and forth head attachment of the device can reach deeply into your muscle tissue. This helps to keep the body healthy by boosting circulation of oxygenated blood through sore muscle tissue, and greatly accelerate warm-up and recovery.
The 5 best percussive massager guns
HYPERVOLT PLUS – The Best High-End Percussion Massager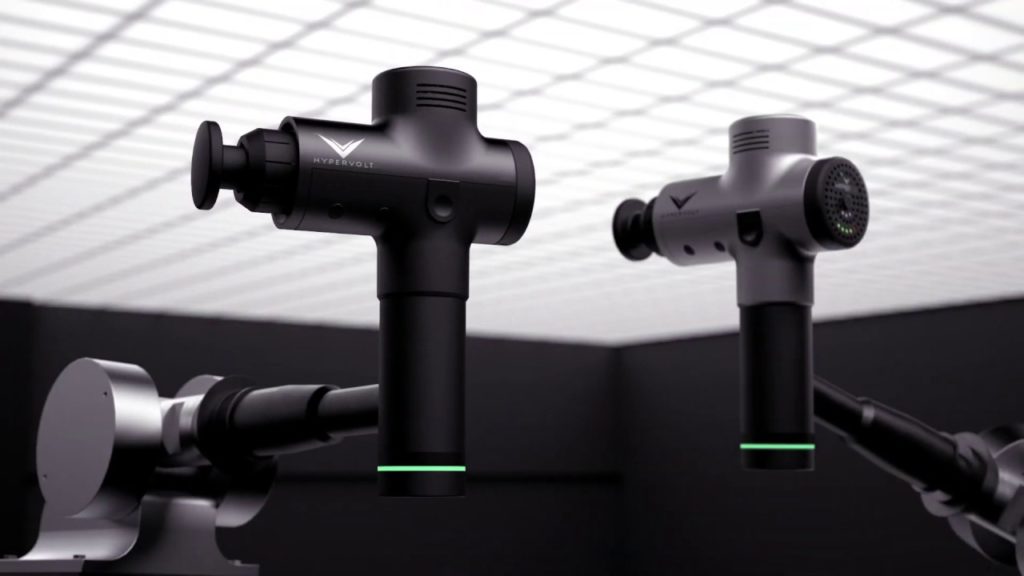 The first universally recognized champion on our list is perfect for those who are looking for the quietest model and the mighty power all at once. You can use the device while having a conversation with no need to raise your voice. A strong 90W motor is the main reason that makes the massager extremely powerful and effective to use. HYPERVOLT suits not only professionals but also a regular gym-goer.
HYPERVOLT PLUS comes with 5 head attachments, 5-speed/power settings, and lights that indicate the battery charge as well as the pressure. The powerful 90W high-torque motor provides intense percussive motion with a 13 mm stroke length. The massager gun weighs less than 1.5 kg and its ergonomic design allows you to bring the device along with you during traveling. The lithium-ion battery lasts up to 2.5 hours.
One of the drawbacks of the device is the absence of a carrying case, especially considering the relatively high price. Also, there is only one gripping position for the handle, and you may need someone's help to reach certain spots on your body.
To sum up, here are the Pros and Cons:
| | |
| --- | --- |
| Pros | Cons |
| A powerful but quiet beast | Quite expensive |
| based on customer reviews, Hypervolt is extremely good at dealing with intense muscle tightness | one possible gripping position by the handle |
| its state-of-the-art technology delivers the most relaxing massage experience. It feels damn good! | absence of a carrying case |
| suitable for professionals as well as being perfect for regular gym-goers | |
| ergonomic design allows to comfortably travel | |
| the battery's life span is up to 2.5 hours in a single charge | |
TIMTAM POWER MASSAGER PRO – One Of Its Kind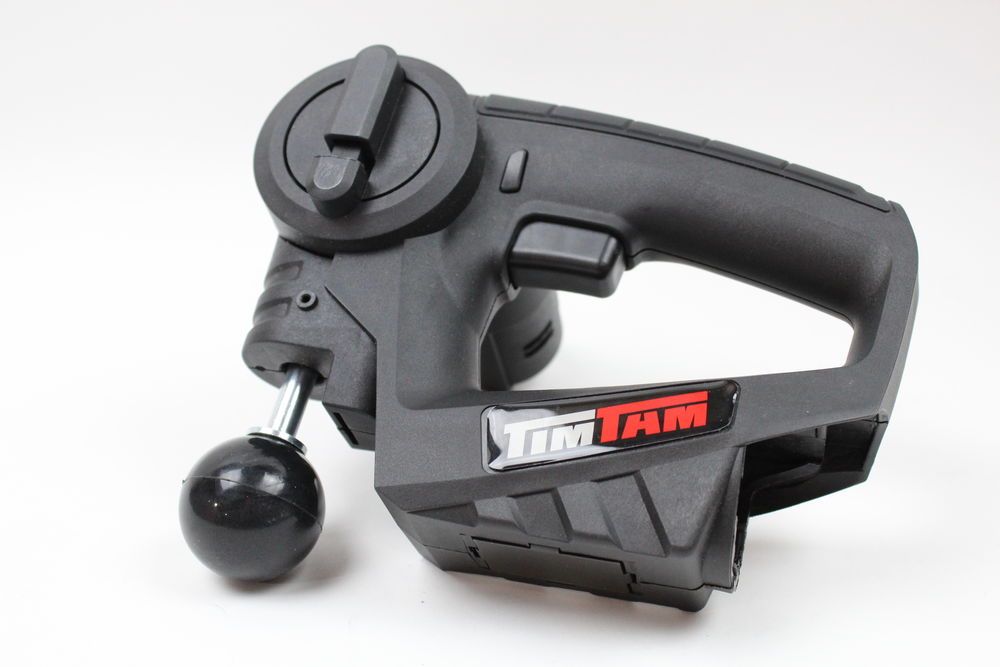 The next popular fighter is ready to knock out its opponents. The machine has unique features making the device stand out. They are an automated-heating tip, which heats up to 99 degrees Fahrenheit, and a massage head efficiently transmitting percussion therapy to your body. The machine has a deep reach of 32 mm into muscle tissue delivering a great strike of percussion. Also, the LED screen displays useful information, regarding percussion massage. The adjustable handle is comfortable to use on your own without somebody to help you hit hard-to-reach spots.
Timtam Power Massager Pro weighs less than 1 kg and it comes with 3 head attachments, 3-speed settings, and 5 treatment program modes. The greatest feature appears to be a 175-degree adjustable arm that allows you to hit wherever you need to. It comes with 4 different international chargers making the device perfect for traveling. The battery life is up to 1 hour in a single charge.
A considerable disadvantage of the device appears to be a sensitive power button, which can be easily pushed accidentally when you slightly tap it while massaging. Another point to consider is that the T-button is 'flimsy'. When it comes to adjusting the head, you cannot push it straight, it goes from side to side. And, Timtam Power Massager Pro is not a quiet machine at all.
What about the Pros and cons?
| | |
| --- | --- |
| Pros | Cons |
| The first high-powered percussion device with heat. A truly unique monster; | Pretty sensitive power button. The device can be easily shut down without you wanting it to; |
| impressive deep reach of 32 mm into muscle tissue delivering a great strike of percussion. It is insanely cool! | The T-button is flimsy. Though not annoying to operate; |
| LED screen displays information regarding heat temperature, skin temperature, and treatment mode; | quite noisy machine; |
| an extremely customizable device: you can get an optimal gripping experience; | |
| the massager comes with 4 different international chargers. Are you kidding me? | |
THERAGUN PRO – The Most Sophisticated Machine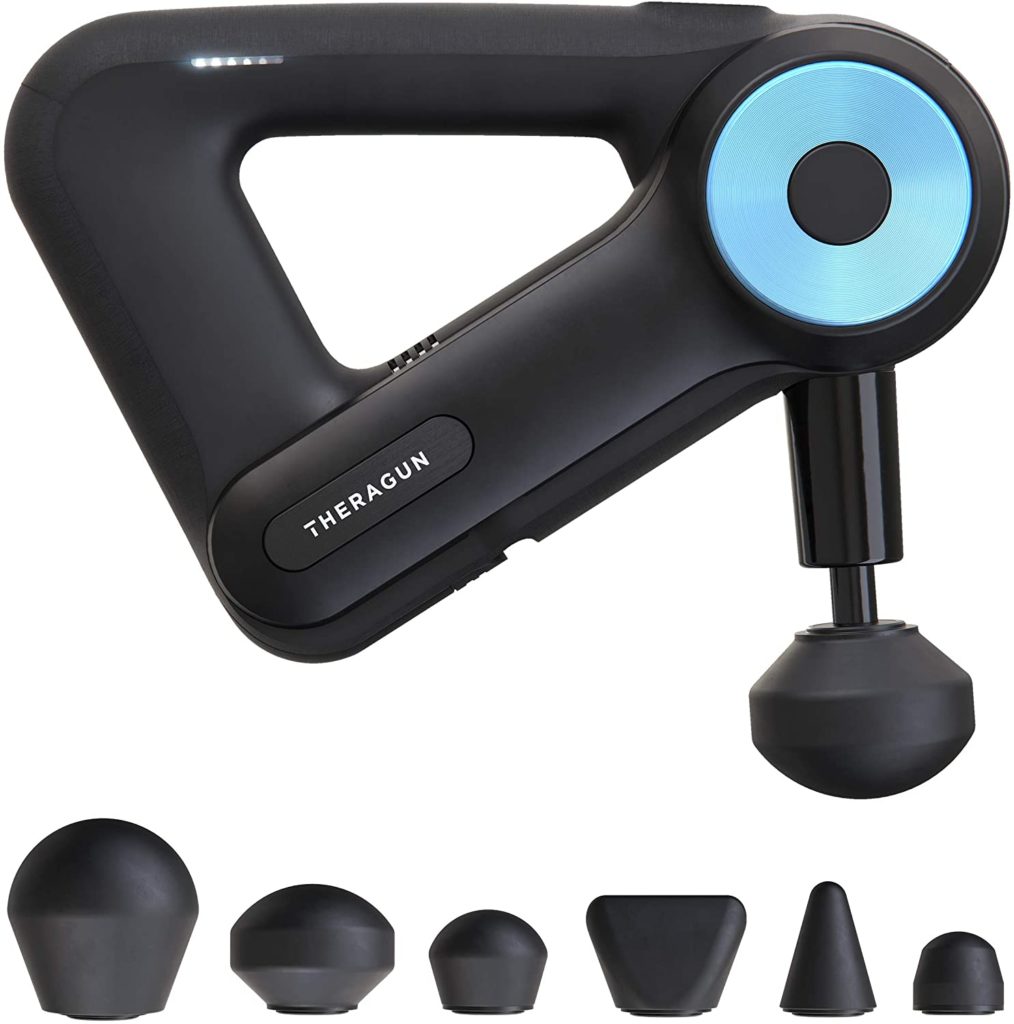 Theragun Pro is a technologically advanced model due to Smart App Integration which guides you through the process. The ability to control your massage through the app is outstanding. Another remarkable feature is a futuristic triangle design allowing you to comfortably grip the handle and hit certain areas easily on your own. But noise coming from Theragun Pro is annoying and can draw unwanted attention. And the price is quite high compared to their counterparts.
The device is equipped with 6 massage heads, 2 rechargeable lithium-ion batteries with 300 minutes total battery life, 5-speed settings, and app-controlled speed modes. Theragun has a deep reach of 16 mm into muscle tissue and an adjustable rotating arm. Ergonomic triangle design has the capability of gripping the arm the way you want. The device has an OLED screen with the speed and force meter. Theragun Pro is lightweight and weighs only 1.3 kg.
One of the greatest features appears to be the usage of preset routines. You can easily control the speed by Smart App Integration via Bluetooth. The app can also tell you how to effectively use the device while guiding you through the process and suggesting what attachments and where to apply.
Let's get right into the Pros and Cons.
| | |
| --- | --- |
| Pros | Cons |
| The usage of cutting-edge technology. Smart App Integration is about to make your life better; | You need to save money to buy it. It is quite expensive. |
| a futuristic triangle design that gets everyone's attention; | sounds like an electric drill. The noisiest one. |
| an adjustable rotating arm and ergonomic multi-grip; | |
| an OLED screen with force meter; | |
| this baby monster has 6 massage heads and 5 speed settings. It is an extremely customizable machine. | |
SPORTNEER PERCUSSIVE MASSAGE GUN – The Best Budget Massager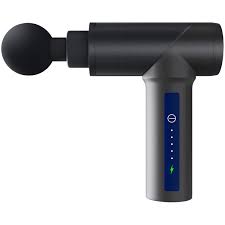 Sportneer Percussive Massage Gun works as good as other more expensive devices. Considering the price of the device, this massager gun is somewhat special: it is perfect for waking up muscles and suitable for recovery. It is lightweight, compact in size and suitable for a long length therapy. The main drawback is that the device is relatively loud, reaching 55 decibels, although it is still softer than the volume at which most people listen to music.
The device comes with 6 changeable massage heads, two of which are metal heads that allow you to apply essential oils to get an experience which is similar to a masseuse. Sportneer Percussive Massage Gun has 5-speed settings and its battery life is 1.5-5.5 hours. The amplitude of the device is 11 mm, and the procedure therapy is more vibration type rather than percussion type. The machine weighs less than 1 kg.
Pros VS. Cons.
| | |
| --- | --- |
| Pros | Cons |
| The most affordable and powerful beast; | Its 'roar' is not as quiet as you want it to be |
| works as good as expensive counterparts; | |
| long uninterrupted massaging experience | |
| has ultra-compact size. You can bring it anywhere. | |
ACHEDAWAY VIBRATION AND PERCUSSION MASSAGER – Solid Victory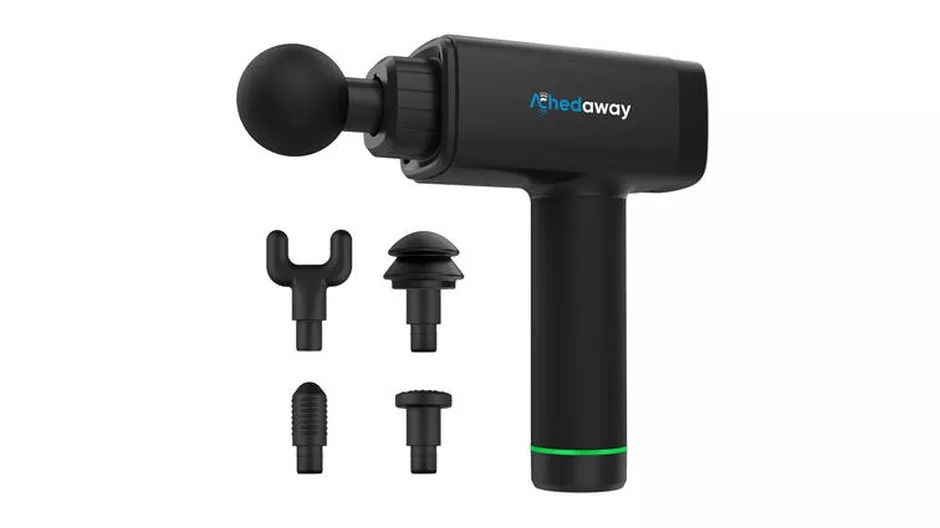 Achedaway Vibration and Percussion Massager is pretty similar to its more expensive counterpart, the Hypervolt Plus. The machine works quietly allowing you to enjoy watching TV or to chat with someone. There are no obvious drawbacks, which is awesome considering the price of the massager.
The model has 10 mm amplitude and is equipped with 4 changeable head attachments. Achedaway Vibration and Percussion Massager has 5-speed settings varying from 1500 – 3250 rpm. The lithium-ion battery allows you to use the device up to 5 hours depending on the speed mode.
The great feature of the device is that it will automatically stop after 10 minutes of work. The massager weighs only 1.1 kg, and it also has 5 lights indicating the battery and the speed mode.
Are there any drawbacks?
| | |
| --- | --- |
| Pros | Cons |
| is comparable to Hypervolt Plus. Finish him! | No obvious drawbacks. Flawless victory. |
| has the battery and speed mode indicator; | |
| 4 massage heads and 5-speed settings; | |
| a quiet champion. | |
If you are on a budget or want to impress others, open your ears now!
Having such an abundance of percussion massagers can give you a headache deciding what the best option is. Considering effectiveness, cost, and level of noise, the best high-end percussion massager is definitely Hypervolt plus. This device is perfect for warming up before stretching or intense workouts. Some attachments can penetrate deep into the layers of muscle, enhancing your performance afterward. You can buy this massage gun for $395 on the official website or on amazon.com.
Based on customer reviews, the best budget massager is Sportneer Percussive Massage Gun. The cost of this beast is only $139.99. Do not knock it until you try it!
A massager gun that is responsible for recovery magic and comparable to one of the best percussion massagers in a league of its own is Achedaway Vibration and Percussion Massager. It is not as popular yet compared to its counterparts, but it is worth giving it a try.
And Achedaway Vibration and Percussion Massager costs $229 with current discounts, and it can be bought on its official website as well as on amazon.com.